Install Volumio and connect to Volumio Hotspot
Hello,
For those who want to download and install Volumio 2, look at this video for a quick tutorial and you will be done it very quickly:
At this video skip the command line field. Not necessary.
After you put your micro sd card back to Raspberry Pi you must wait 5-10 minutes, like the video said and then connect to Volumio hotspot (from your mobile or tablet or laptop)
(look the image below):
Once in Hotspot Mode, Volumio can be reached with IP 192.168.211.1(from your mobile or tablet) or via http://volumio.local as usual.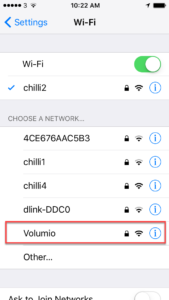 Connect to it with password "volumio2". After connected to "volumio" wifi, below wizard helper page will be shown: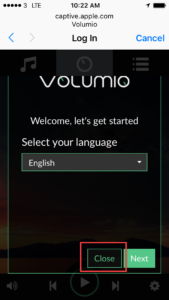 Network Settings(Wifi)
If for some reason you skipped wizard or it do not show up, go to Network Settings (from the menu icon on top left corner):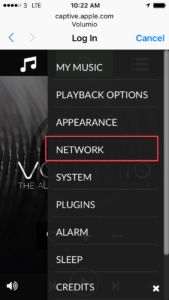 and configure Volumio to connect to your own WiFi. Scroll down until you see your own WiFi access point:
When you press Connect(red arrow on image) then the screen will "blacked out" and a spin wheel will show for one minute or less. Wait and after that your Raspberry Pi will be connected to your WiFi router.
PS. If you connect an ethernet cable, none of these are needed 🙂
Accessing Volumio device
The UI can be accessed from any device with a browser: Tablets, PC, Mac, Android Phones, iPhones, Smart TVs, Ebook readers etc. Make sure you have the latest versions of their respective browsers. For an optimal experience, Google Chrome is suggested.
The UI can be accessed by typing Volumio's IP address in your browser. To find the IP address you can use:
Volumio UI can also be accessed by typing http://volumio.local, or if you renamed your Volumio device http://VOLUMIONAME.local .
Please note that this function is not available on Android devices, just on Mac and iOs or in Windows (if that does not work, install Bonjour )
Mamboberry HD DAC+ on Volumio
To enable Mamboberry HD DAC+ got to Playback options:
Enable i2s DAC option:
and choose Mamboberry LS DAC+ from the list(it will be a Mamboberry HD DAC+ option very soon):
Click on Save and restart your Media Player.
Done! 🙂